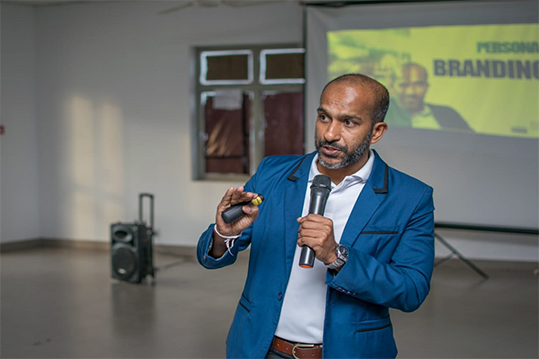 "How to think differently about businesses you will start"
Career Guidance Unit in collaboration with Venture Frontier Lanka organized a special workshop in order to offer guidance and motivate the undergraduates of the University of Kelaniya towards the field of entrepreneurship.
The event was co-sponsored by the two students' associations, Inventor Club and IMSSA (Industrial Management Science Students' Association). The workshop was held on the 05th July 2019 from 3.00 p.m. to 7.00 p.m. on the 04th floor of the A 7 Building of the Faculty of Science. 175 undergraduates representing of the faculty of Science participated in this event.
On this occasion four lectures were conducted in order to create awareness among undergraduates about the field of entrepreneurship. The resource persons for the event were:
Dr. Sulochana Segera – Founder/Chairperson – Women in Management
Mr. Buwaneka de Silva – Deputy Chairman – SEF
Mr. Heminda Jayaweera – COO – SLINTEC – Co-founder Venture Frontier Lanka
Mr. Niroshan Madampitige – Head of Delivery and Agile Coach – Gopstars
Through the lectures, the undergraduates were encouraged to do innovations and were provided an understanding of branding and marketing their products. The responses of the undergraduates indicated that the workshop was useful and highly productive. The project manager of Venture Frontier Lanka, Ms. Sasmini Bandara, Director of Career Guidance Unit and Career counselors attended the event.