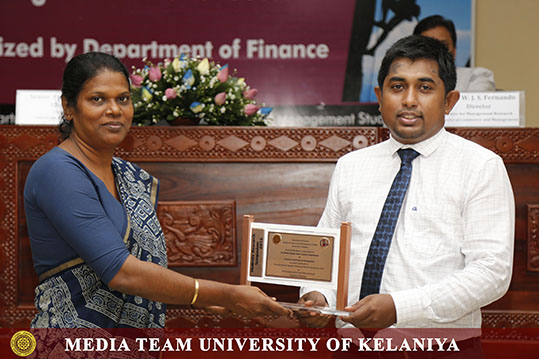 Students' Finance Research Symposium 2018 organized for the 07th consecutive time by the Department of Finance of the Faculty of Commerce and Management Studies, University of Kelaniya was held on the 28th of November 2018 at the Auditorium of the Faculty of Commerce and Management Studies. The symposium was held with the objective of developing research skills of the undergraduates who follow degree programmes at the Department of Finance.
Senior Lecturer Dr. M.M.M. Shamil, Department of Commerce & Financial Management delivered the keynote address of the event on the theme "Related Party of Disclosures".
More than 65 research papers were presented at the symposium and the research studies conducted in relation to the course unit 'Dissertation of Finance', relevant to final year undergraduates of the Department of Finance was also launched at the symposium.
The inauguration of the symposium was held under the patronage of Cadre Chair & Senior Prof. N.P. Sunil- Chandra, Chairman- Research Council. Present at the occasion were Senior Lecturer Dr. G.W.J.S. Fernando, Director- Research Centre (Faculty of Commerce and Management Studies), Senior Lecturer C.P.S.K. Fernando, Head- Department of Finance, Prof. Susima Weligamage, Coordinator of the Symposium, academic staff members and the undergraduates of the Department.