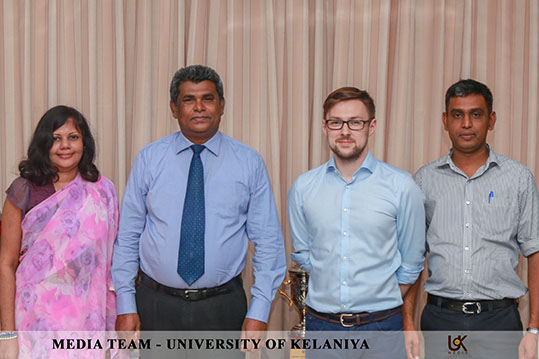 Erasmus+ International Credit Mobility Grantee Mr. Konrad Garnowski from the Faculty of Management and Economics, University of Szczecin, Poland called upon the Vice Chancellor at the Office of the Vice Chancellor on the 13th of March 2019.
Present at the occasion were Prof. Neelakshi C. Premawardhena, Director- International Affairs, Senior Lecturer Yamuna Mendis, Head- Department of Political Science, Senior Lecturer Sithara Priyadarshana, Head- Department of International Studies, Senior Lecturer Dr. Osantha N. Thalpawila and Ms. Sashini Chandrasekara, Coordinator- International Cooperation.
Mr. Garnowski is an expert in Law and Legal Studies and he is the first Erasmus+ grantee to be hosted by the Faculty of Social Sciences. During the mobility period he conducted several lectures for the students of the Departments of Political Science and International Studies.
The visit was coordinated by Dr. Osantha N. Thalpawila and the Centre for International Affairs.