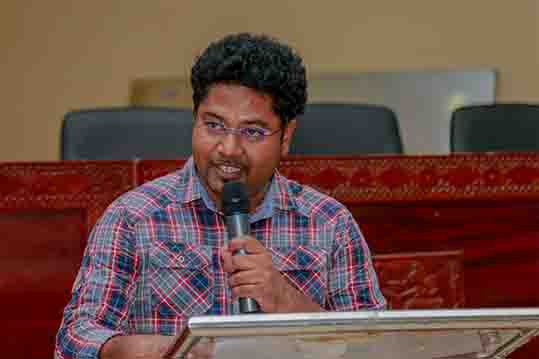 A special security and intelligence review session jointly organized by the Staff Development Unit, of the Faculty of Commerce and Management, University of Kelaniya and Sri Lanka Army was held on the 27th of May 2019 at the Auditorium of the Faculty of Commerce and Management Studies.
The purpose of this program was to create awareness on the current security and intelligence situation of the country and to get some fruitful insights into our own security.  The resource person for this workshop was Mr. Senaka Muthukumarana, Lieutenant Colonel, Sri Lanka Army and Directorate of Military Intelligence, Sri Lanka Army.
The event targeted all the senior lecturers, probationary lecturers and temporary lecturers as well as all the faculty non-academic staff members. It was so beneficial and a timely theme in understanding the current situation of the country. The program resulted in creating a right mindset among the participants to separate terrorism from the rest of Islamic community while gaining some insights into understanding the birth of ISIS, their purpose, their relationship with National Thawheed Jamath in Sri Lanka and the impact of Easter Attack on national security.
The event was organized by Senior Lecturer Dr. D. U. Mohan, Coordinator, Staff Development Unit, Faculty of Commerce and Management Studies under the guidance of the Dean of the Faculty, Senior Lecturer Dr. Narada Fernando.