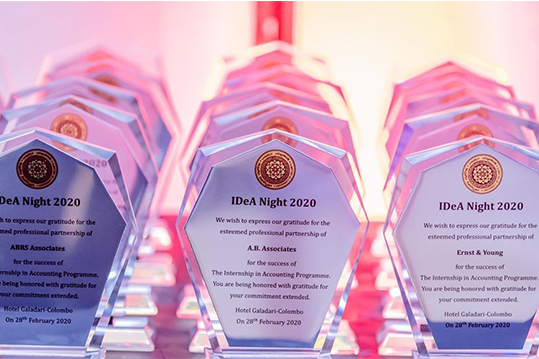 Internship Felicitation Ceremony, IDeA Night 2020 held on 28th of February 2020 at Grand Ballroom of Hotel Galadari, Colombo for the 21st consecutive year highlighting the continuous academic-professional relationship of Department of Accountancy.
The Department of Accountancy (DoA) being one of the leading departments in Faculty of Commerce and Management Studies, University of Kelaniya offers Bachelor of Business Management (Special) Degree in Accountancy. The DoA is committed to pursue excellence in research, teaching and consultancy services. Internship in Accounting offers with practical work exposure as a credit bearing course for final year undergraduates. It allows students to apply the theory learnt in the classroom in a professional work environment. The DoA is the pioneer of introducing internship program in to the undergraduate curriculum of the University of Kelaniya in 1999.
Aim of this Internship Felicitation Ceremony is to appreciate and celebrate the success of undergraduates who have successfully completed their internship program and to felicitate the contribution of the training partners representing both audit and non-audit sectors. This event provides a great opportunity for interns to network with professionals and allows companies to find skillful graduates for their employments.
IDeA Night 2020 was graced by the chief guest Senior Lecturer Dr. P.N.D. Fernando, Dean- Faculty of Commerce and Management Studies, University of Kelaniya & Guest of Honor Mr. Sanjaya Bandara, Vice President- CA Sri Lanka. Keynote speeches were given by Mr. Dinesh Athapaththu, Chief Operations Officer- Morison PLC.
Further the event held the honored presence of Prof. Ariyarathna Jayamaha, Dean- Faculty of Graduate Studies, Prof. P.M.C. Thilakarathna, Director- Centre for Distance and Continuing Education, Senior Lecturer Dr. Kamal Tilakasiri, Head- Department of Accountancy, Lecturer Malintha Perera, Coordinator of the Internship in Accounting program, academic staff of Department of Accountancy, different industry experts, corporate partners, training partners, professionals and accountancy undergraduates of all four years.
The highlights of the event contain, launching the 07th volume of the "Case Studies in Accounting Journal", felicitating training partners, awarding the best interns and awarding certificates for interns who have successfully completed the Internship in Accounting Program.
Shaheer Bari was awarded as the Best Performer of the Internship in Accounting Program 2019.