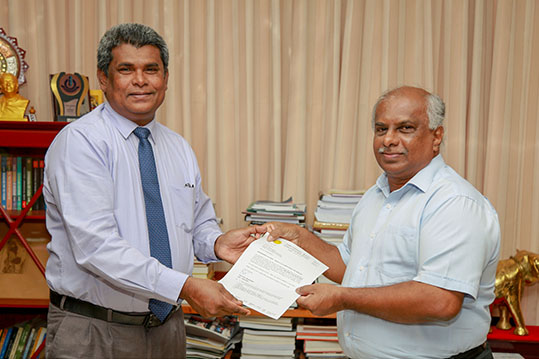 Senior Lecturer Dr. Gamini Wijayarathna was reappointed as the Dean of the Faculty of Computing and Technology. The appointment letter was handed over to the Dean by the Vice- Chancellor, Prof. D.M. Semasinghe on the 06th of May 2019 at the Vice- Chancellor's Office.
Present at the occasion were Senior Prof. Lakshman Senevirathne, Deputy Vice- Chancellor, Heads of the Departments of the Faculty of Computing and Technology, Mr. W.M. Karunaratne, Registrar and Ms. Dhammika Ambegoda, Assistant Registrar- Academic Establishment Division.
Dr. Gamini Wijayarathna obtained his bachelor's degree from the University of Kelaniya, MEng (Electro-Communications) and DrEng (Electro-Communications) from Japan.
Web-based Software Engineering, E-Learning, Executable Specification Languages, Spatial-Temporal Reasoning are some of his research interests while Software Engineering, Computer Programming (Structured and Object-Oriented), Computer Networks, Databases, System Analysis and Design, Web-based Software Engineering, Data Structures and Algorithms are his teaching interests.
Over the years, Dr. Wijayarathna served as a resource person for National Education Institute (NIE) & Ministry of Education and as a software development consultant for private and public institutes in Sri Lanka contributions
A Simulation Approach for Reduced Outpatient Waiting Time, Deep Neural Networks for Source Code Author Identification, Future Research Needs of a Developing Sri Lanka: Concepts, Trends and Vision, Source Code Author Identification with Unsupervised Feature Learning, A Machine Learning Based Tool for Source Code Plagiarism Detection, An Automated Tool to Generate Test Cases for Performing Basis Path Testing, The Analysis of Bus Chaining Phenomenon in Traffic Congestion, Software: Practice and Experience, Image Analysis System for Detection of Red Cell Disorders Using Artificial Neural Networks are some of his publications.