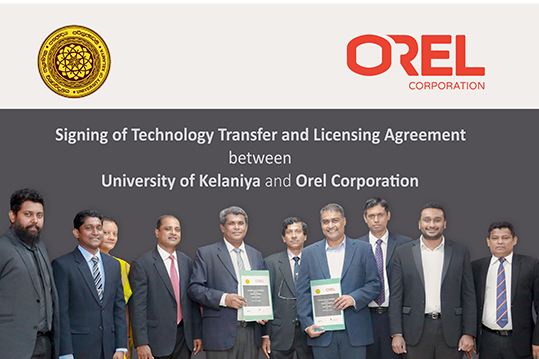 A remotely controlled ceiling fan regulator invented by Senior Prof. S.R.D. Kalingamudali, Head, Department of Physical Science and Electronics of the University of Kelaniya together with Mr. Kelum Perera who is reading for his PhD at Kent State University, USA was introduced to the market on 29th October of 2019 at the senate room of the University of Kelaniya. 
OREL Corporation worked as the technical partner of this invention and the patent license contract was officially signed concurrently. 
Prof. D.M Semasinghe, Vice-Chancellor, University of Kelaniya and Mr. Kushan Kodithuwakku, Managing Director, OREL Corporation signed the agreement representing the two parties.
It is expected to establish a departmental fund for the undergraduates who are conducting research related to electronic science from the money generated from this new product which was commercialized for the first time by the University of Kelaniya
Academic staff members including Prof. B.M Jayawardhane, Dean, Faculty of Science, Senior Lecturer Dr. P.N.D Fernando, Dean, Faculty of Commerce and Management Studies, Senior Lecturer Dr. M.P Diyamulla, Director, Business Relation Network and academic staff members University of Kelaniya participated in this event.
Furthermore non-academic staff members together with W.M Karunarathne, The Registrar, undergraduates and the staff members of OREL Corporation joined this event.