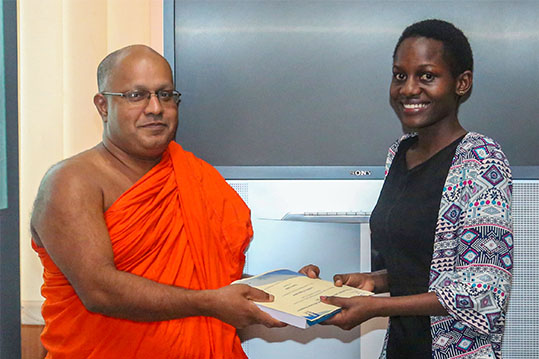 The Department of Library and Information Science, the Faculty of Social Sciences, University of Kelaniya held its 03rd International Conference on Library and Information Management on 26th of November 2019 at the faculty board room.
Dr. Rewant Vikram Singh, Director- Swami Vivekananda Cultural Centre of High Commission of India & Senior Prof. Mr. Lakshman Senevirathna, Deputy Vice-Chancellor graced the event as the chief guest.
Mr. Sanjay K. Bihani, Keynote speaker, the IFLA Governing Board Member, IFLA Professional Committee Member and Chair of Division-V, Library & Information Officer, Ministry of External Affairs, India delivered the key note speech of the conference. Dr. Mrs. Wathmanel Senevirathna, the former Librarian, Open University of Sri Lanka, Dr. R. Balasubramani, participated in the occasion as honorary guests.
Senior Lecturer Dr. Namalee Suraweera, Head- Department of Library & Information Science, Staff members of Department of Library & Information Science & other departments, undergraduates were present at the occasion.
The main motive of the event was to put forward and discuss the research findings under the conference theme "Digital Transformation and Reinvention of Future Ready Libraries". A glance at the contents of reviewed abstracts illustrates to what extent the conference has been successful in its subject material and the objectives that it aims at. Academic staff of the Department of Library and Information Science, undergraduates, public and the invitees took part in the occasion.