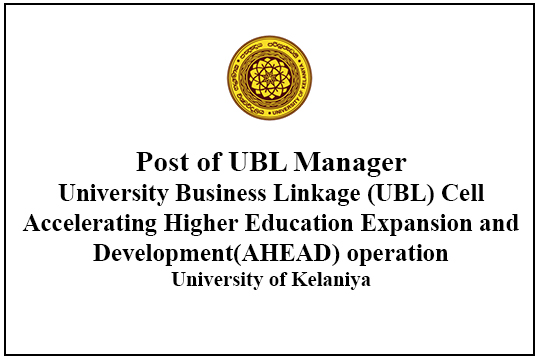 Vacancy Notification – Post of UBL Manager
Application Closed

Government of Sri Lanka (GoSL) and the World Bank have agreed to support the higher education sector through a Bank Funded Accelerating Higher Education Expansion and Development (AHEAD) operation and intend to apply part of the proceeds of this loan, to make payment under the contract for UBL Manager to be employed at the University Business Linkage Cell of the AHEAD Operation, University of Kelaniya.
We are seeking self-motivated and energetic person with perfect blend of core competencies to join the UBL Cell under the AHEAD Operation of the University of Kelaniya. The ideal person should possess minimum of Bachelor Degree from a University recognized by University Grant Commission along with professional competencies below. The contract will initially be made for one year for successful candidate which is subsequently renewable for another term based on work performance and satisfaction. Monthly salary is Rs 55,000.00 all-inclusive which is subject to EPF and ETF contribution as per Labour Law of the Government of Sri Lanka.
 Ability to lead and Manage AHEAD activities related to UBL-Cells Efficiently.
 Provide support in filing patent applications to protect IP rights of research conducted by University staff and students.
 Ability to Coordinate, and facilitate implementation of a number of commercialization endeavors with complex and diverse activities.
 Ability to interact with senior academic and administrative staff in the university and function effectively in a team environment.
 Ability to analyze and resolve implementation issues effectively.
 High level of IT literacy, English proficiency, communication skills, negotiating skills and good interpersonal relations.
Interested persons are kindly invited to Walk in Interview at 10.30 am on 31.08.2019 at the Research services Centre (RSC), Faculty of Science along with originals of the educational and professional qualifications etc and a set of copies of the same. If further details are required, please contact the below.