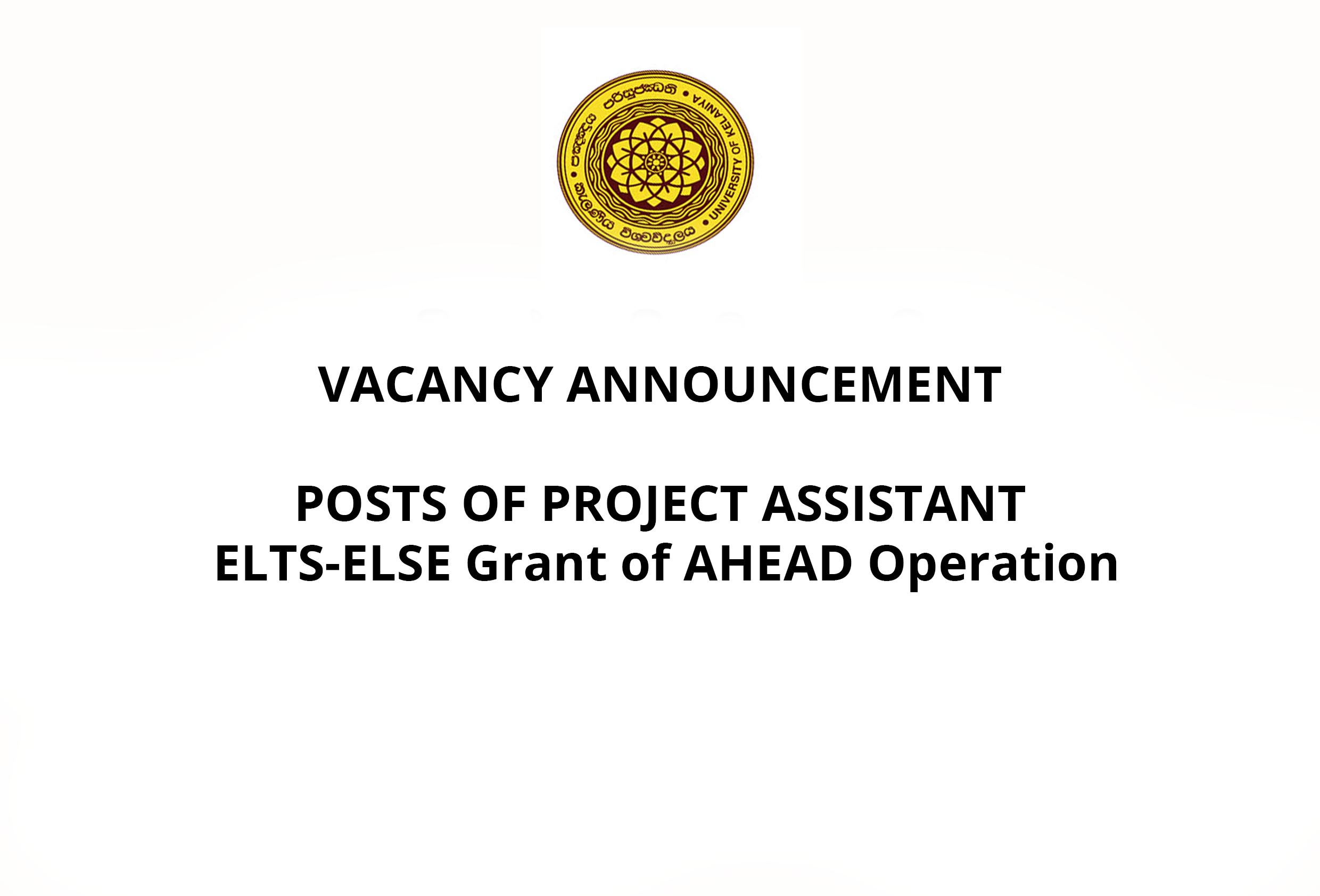 VACANCY ANNOUNCEMENT - POSTS OF PROJECT ASSISTANT
 ELTS-ELSE Grant of AHEAD Operation
Government of Sri Lanka (GoSL) and the World Bank have agreed to support the higher education sector through a Bank Funded Accelerating Higher Education Expansion and Development (AHEAD) operation and intend to apply part of the proceeds of this loan, to make payment under the contract for Project Assistant to be employed at ELTS-ELSE Grant of the Department of Plant and Molecular Biology under AHEAD Operation, University of Kelaniya. 
We are seeking self-motivated and energetic person with perfect blend of core competencies to join the project under the afore said grant. The ideal person with minimum educational qualification of GCE A/L of any stream along with 06 passes in GCE O/L including credit passes in English and Mathematics, are encouraged to apply. Applicants with higher qualifications and relevant work experience with below attributes, will be given priority. Selection of appointee will be made through a structured interview and the appointment will initially be made for one year which is subsequently renewable for another term on mutual consent, upon satisfactory work performance.
Ability to carry out the key tasks effectively and efficiently
Ability to interact with senior academic and administrative staff in the university
Ability to function effectively in a team environment inspiring trust and cooperation of other team members
Strong communication, negotiating skills and good interpersonal relations.
Salary is negotiable. Interested persons are kindly invited to send in their CV and other relevant information along with cover letter, on or before 12.00 noon of 10.07.2020 to the email: This email address is being protected from spambots. You need JavaScript enabled to view it..
Director   
Accelerating Higher Education Expansion and Development (AHEAD) Operation
Operation Technical Secretariat
02rd Floor, F 15 Building, Dalugama
University of Kelaniya, Sri Lanka
01.07.2020