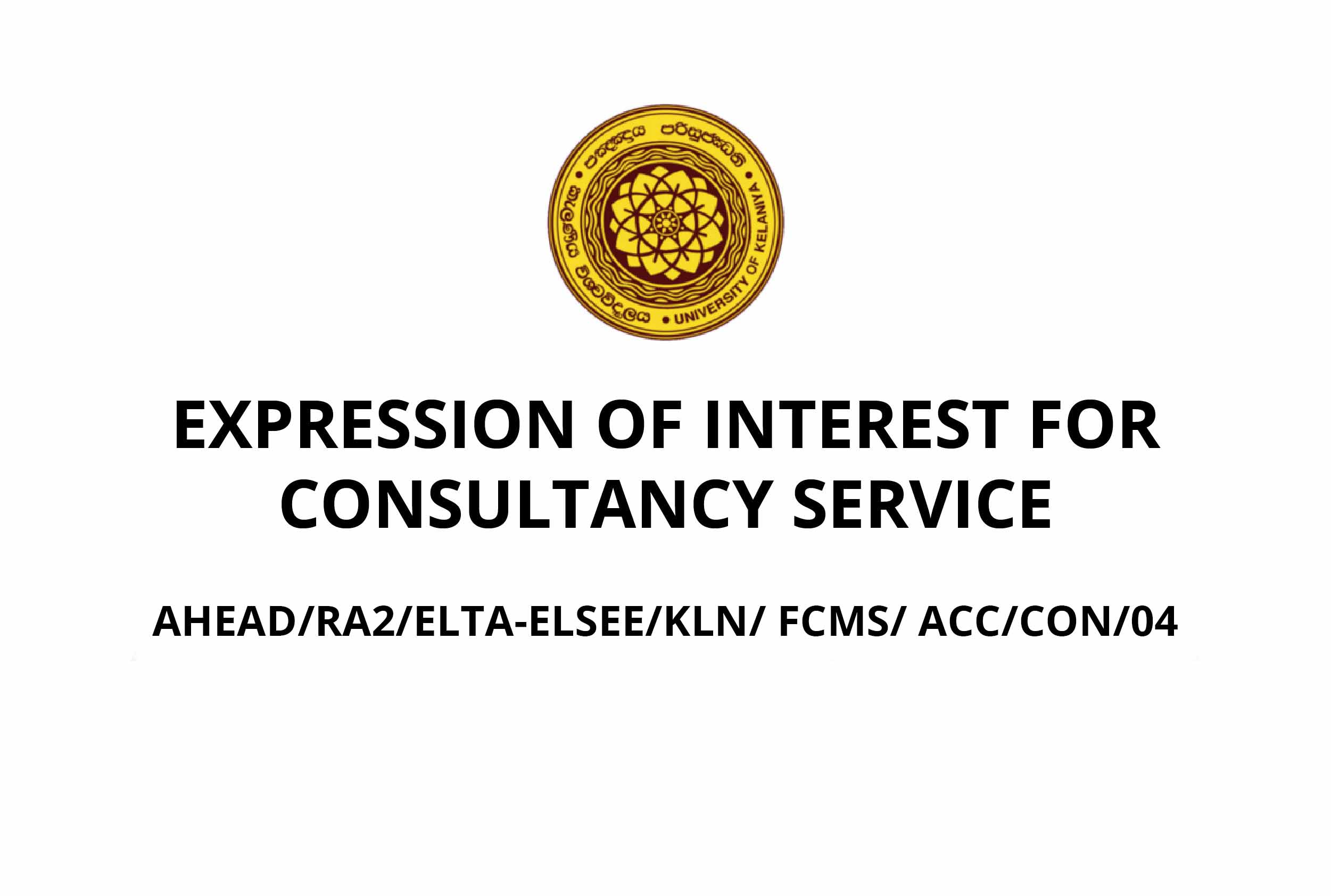 DEMOCRATRIC SOCIALISTIC REPUBLIC OF SRI LANKA
MINISTRY OF HIGHER EDUCATION, TECHNOLOGY AND INNOVATION
OPERATION TECHNICAL SECRETARIATE OF THE ACCELERATING HIGHER EDUCATION EXPANSION AND DEVELOPMENT (AHEAD) OPERATION, UNIVERSITY OF KELANIYA, SRI LANKA
EXPRESSION OF INTEREST FOR CONSULTANCY SERVICE
(AHEAD/RA2/ELTA-ELSEE/KLN/ FCMS/ ACC/CON/04)
The Democratic Socialist republic of Sri Lanka has received a loan from the World Bank, and intends to apply part of the proceeds of this loan, to make payment under the contract for Consultancy Service on Training and Development Sessions for Staff on Digital Delivery  The Consultancy under the AHEAD Operation is funded by the World Bank and carried out by the ELTA-ELSE grant of the Department of Accountancy of the Faculty of Commerce and Management Studies, University of Kelaniya, Sri Lanka.
The consultant is mainly required to provide services as outlined in the terms of reference (TOR) approved by the World Bank. Essential information and scope of the services, can be obtained from Dr ULTP Gunasekera  via her T.Ph: +94 71 449 9880 / eMail: This email address is being protected from spambots. You need JavaScript enabled to view it..
Therefore, Chairman, Regional Procurement Committee (RPC-Minor) of the Operation Technical Secretariat of the AHEAD Operation, University of Kelaniya, hereby invites eligible persons having below qualifications, to submit their interest (EOI) and proposals in providing this service.  Interested persons must provide information indicating that he or she is qualified to perform this service (CV and evidence for experience in similar assignments, sample of documents developed and availability of appropriate skills etc.) 
QUALIFICATION & EXPERINCE
Bachelor's degree with minimum 5 years of experience in similar assignments, of which at least 3 year of experience should be in conducting workshops and training on digital delivery.
Consultant will be selected in accordance with GOSL Guidelines on selection and employment of consultant – August 2007. Expression of Interest ( EOI) must be delivered to the address below or  emailed to This email address is being protected from spambots. You need JavaScript enabled to view it. , on or before 12:00 Noon of 15.07.2020.
Chairman – RPC (Minor)  
Accelerating Higher Education Expansion and Development (AHEAD) Operation
Operation Technical Secretariat, 02rd Floor, F 15 Building, Dalugama,
University of Kelaniya, Sri Lanka
07.07.2020