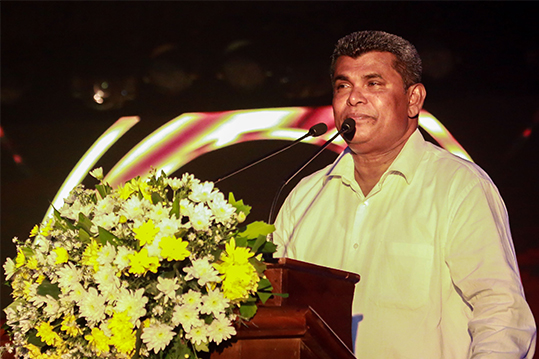 The Awards Ceremony of "Kalana 2019"; Performance, Media Arts and Literature Competition organized for the third consecutive time by the Art Council of the University of Kelaniya was prestigiously held on 14th of November at the Dharmaloka Hall of the University.
Undergraduates who contested representing all the faculties of the university were awarded. In parallel to this award ceremony, Arts and Photographic Exhibition was held on 11th and 13th of November in the Art Gallery. A short film festival was also held in the Auditorium of the Social Science Faculty. Several single-episode drama products of undergraduates representing the final round were staged on 13th of November at DH.
Appreciating the contribution towards the progress of the fields of local arts and literature, Veteran actor Mr. Amarasiri Kalansooriya, Veteran journalist Edwin Ariyadasa and Veteran actor Mr. Ravindra Randeniya, and were honored by the Lifetime Achievement Honorary Award. Prof. Ediriweera Sarathchandra Memorial Award, Dr. Lester James Peiris Memorial Award, Dr. Premasiri Kemadasa Memorial Award, Wilson Hegoda Memorial Award, Pandit W.D Amaradewa Memorial Award, Chithrasena Memorial Award, Cumarathunga Munidasa Memorial Award and Martin Wickramasinghe Memorial Award were presented to the winners at the occasion.
Prof. D.M. Semasinghe, Vice-Chancellor, Senior Prof. Lakshman Senevirathna, Deputy Vice-Chancellor, Prof. Patrick Rathnayake, Dean- Faculty of Humanities, Senior Lecturer Dr. P.N.D. Fernando, Dean- Faculty of Commerce and Management Studies, Senior Prof. Ariyarathna Athugala, Chairman- Art Council expressed their views regarding the endeavor taken by novel artists to prosper the Sri Lankan field of arts. Lecturers, artists, journalists, and undergraduates graced the event. Alumni singer Shashika Nisansala, alumni singer Nilakshi Halapitiya along with singer Saman Lenin participated in the event. University orchestra comprised of University undergraduates led by undergraduate Amith Liyanage provided music for this event, while the event was glistened by winning dancing and singing items.