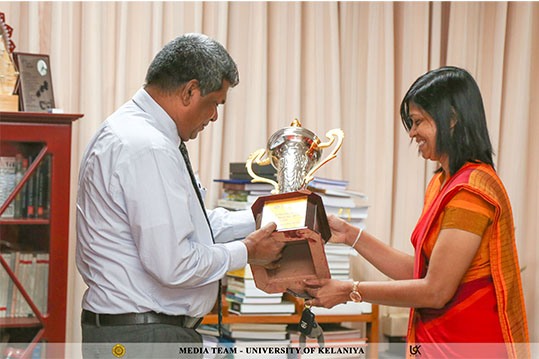 The women staff badminton team of University of Kelaniya has won the 04th International Staff Badminton Tournament, Bangalore, India. The tournament was held from 20th to 23rd of January 2020 at the PES University Sports Complex.
Senior Lecturer Dr. Lanka Ranaweera (Department of Anatomy, Faculty of Medicine) was held the captaincy of the team and Senior Lecturer Apeksha Embuldniya (Department of Social Statistics, Faculty of Social Sciences), Lecturer S.G.M.R.L. Wimalasekara (Department of Microbiology, Faculty of Science) and Ms. M.I. P.Kumari (Department of Physical Education) were the members of the team. Ms. Apeksha Embuldeniya could achieve the "Best Player" title of the tournament.
The team met the Prof. D. M. Semasinghe, Vice-Chancellor of the University on 28th of January, 2020 at the Vice-Chancellor's office and he conveyed his regards to the team. Senior Prof. S.R.D. Kalingamudali, Dean- Faculty of Science and Chairman- Sports Advisory Board also joined the occasion.