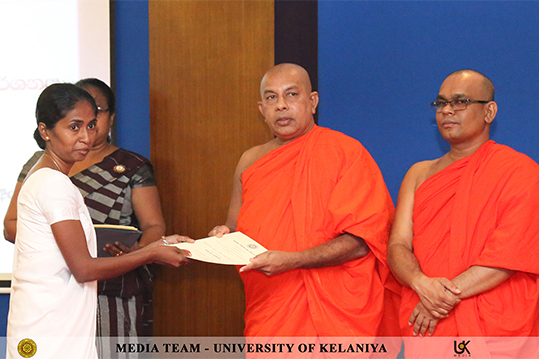 The certificate awarding ceremony of the Department of Sanskrit Studies was held on 22nd of February, 2020. The prime objective of the event was to appreciate and promote the certificate courses on Archaeological Studies, Astrology and Yoga studies.
Meanwhile, Prof. Ven. Induragare Dhammarathana Thero , Head- Department of Sanskrit & Eastern Studies along with academic staff members of the Department including Prof. K.B. Jayawardhane, Senior lecturer Ven. Walapane Gunasena Thero, Senior Lecturer Ven. Udawela Rewatha Thero and Senior Lecturer Ven. Dewagoda Priyarathna Thero.
Moreover, Senior lecturer Thilakasiri Jaynanda, Gampaha Wickramarachi Ayurveda Institute delivered the keynote speech at the occasion.
The ceremony was organized by the Department of Sanskrit & Eastern Studies, University of Kelaniya. Further, certificate awardees, invitees and the general public took part in the occasion.