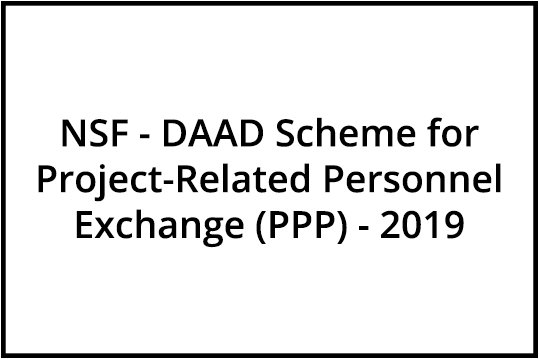 NSF - DAAD Scheme for Project-Related Personnel Exchange (PPP) - 2019
In order to strengthen the cooperation on scientific and academic research between Sri Lanka and Germany, the German Academic Exchange Service (DAAD) and National Science Foundation of Sri Lanka (NSF) have launched a Joint Mobility Program for Project-Related Personnel Exchange (PPP).
Based on a MoU signed in early 2018, the purpose of this new Joint Mobility Program is to promote bilateral scientific cooperation in both countries by creating sustained networks between various Sri Lankan and German teams formed through individual research exchanges. Both parties provide financial support for exchange of researchers from higher education or research institutions of both countries and will cover travel and living costs during their stay abroad enabling their own research. The program is open to all disciplines and deadline for submission of applications 29 August 2019. Funding per project per year: maximum of Euros 6,000 per party / Per year.
More information:
NSF Website            : http://www.nsf.ac.lk/files/ILD/sing/DAAD-NSF_PPP_2nd_call_Advertisement_-_Final.pdf
Deadline                   : August 29, 2019