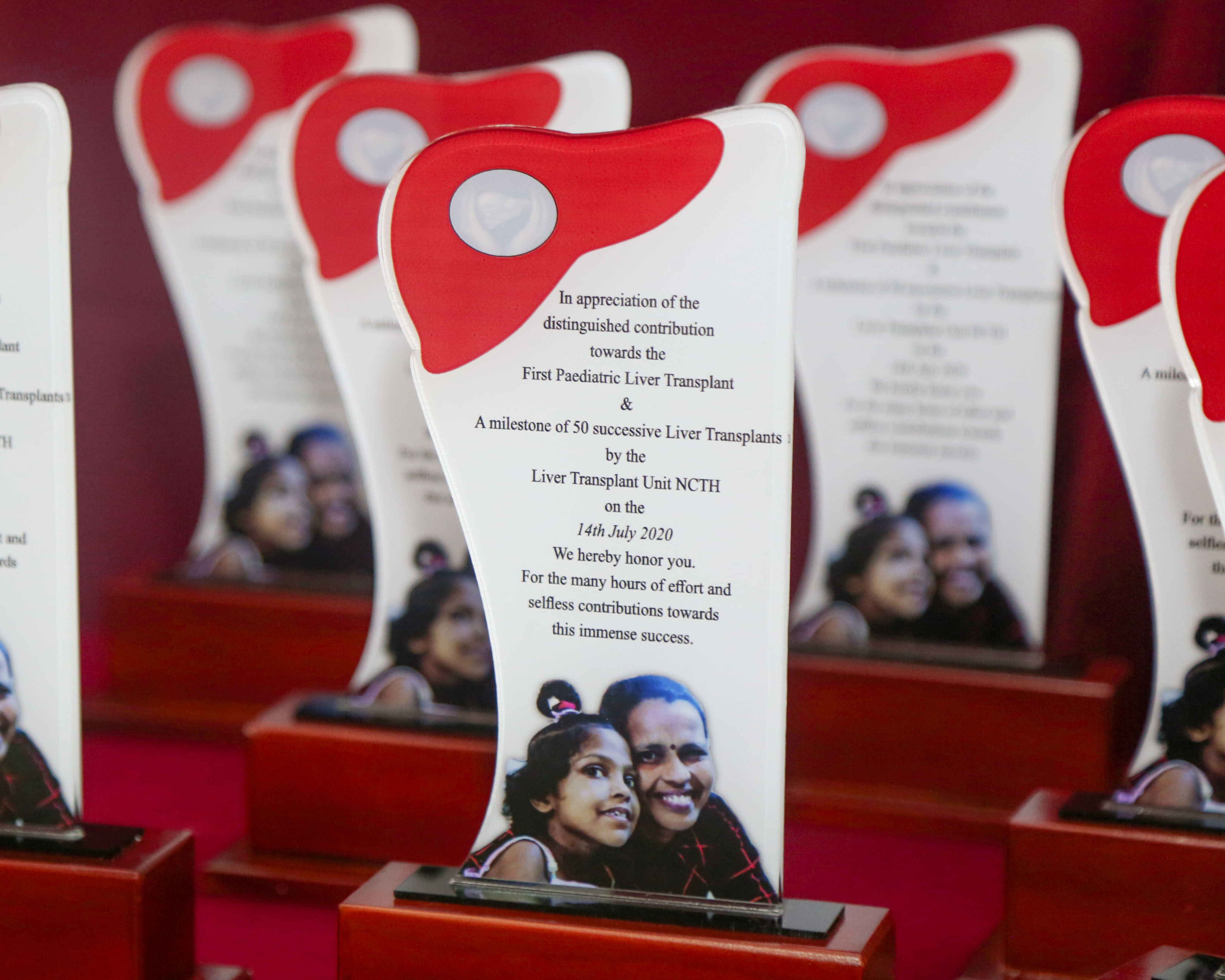 North Colombo Teaching Hospital (NCTH) Ragama, liver transplant team together with expert doctors scattered across the country, was able to perform a living-donor liver transplant for a nine years old girl who had cirrhosis of the liver. The surgery was performed on 14th of July, 2020. The donor was the mother of this little girl. Both of the mother and child are doing well at present and going through a smooth recovery.
This marks the first successful liver transplant performed for a child in Sri Lanka. Furthermore, with this transplant, NCTH liver transplant team has reached a milestone of doing 50 liver transplants where the rest were in adults.
There was a function to mark this important achievement on 24th of July, 2020 in OPD auditorium, North Colombo Teaching Hospital.
Cadre Chair & Senior Prof. P.S. Wijesinghe, acting Vice-Chancellor, University of Kelaniya, academic staff members of Faculty of Medicine, University of Kelaniya, Dr. Sarath Premasiri, Deputy Director- NCTH, staff members of NCTH were participated at the event.
The following team members contributed tirelessly to make this a success.
Surgical Team :
Prof. Rohan Siriwardana
Dr. Suchintha Tillakaratne
Dr. Aruna Weerasooriya
Dr. Ruwan Dissanayake
Dr. Prabath Kumarasinghe
Dr. Buddhika Dassanayake
Dr. Buddhika Uragoda
Dr. Chanaka Ekanayake
And the medical officers of surgical team, nursing team led by Mrs L.N. Damayanthi and Mrs P.A.M. Perera.
Anaesthetic Team :
Dr. Bhaagya Gunetilleke
Dr. Chamila Liyanage
Dr. Dakshi De Silva
Dr. Nilmini Wijesuriya
Dr. Oliver Pathmaperuma
Dr. Nilmini Manawaduge
Dr. Nadeeshya Welikala
Dr. Vishaka Kerner
Dr. Shehan Wijesiriwardana
& medical officers of anaesthesia
Paediatric Team :
Dr. Meranthi Fernando
Dr. Asanka Rathnasiri
Dr. Thabitha Hoole
Dr. Arunath Visvalingam
Dr. Oshini Muthukumarana
Dr. Ishara Kumarasiri
Dr. Heshala Nawagamuwa
Dr. Renu Kalansooriya
& nursing and supporting staff led by Nursing sister Mrs. Wasana Palpagama
Radiology Team :
Dr. Chinthaka Appuhamy
Dr. Eranga Ganewatte
Theatre Nursing Team :
Mrs. D.P.B.S. Sandamali
Mrs. H.A.G. Dilrukshi
Mrs. A.M.N.N.K. Wickramasinghe
Mrs. E.M.M. Ethugala
Referring Consultants from Jaffna :
Dr. V. Thusyanthan
Dr. K. Arulmoli
Fund raisers for the Family :
Dr. Thabitha Hoole
Dr. Arunath Visvalingam
Dr. Paul Bright
Generous Team at Hemas Hospital, Wattala :
Mr. Murtaza Eusufally
Dr. Lasantha Karunasekera
& ICU medical and nursing team