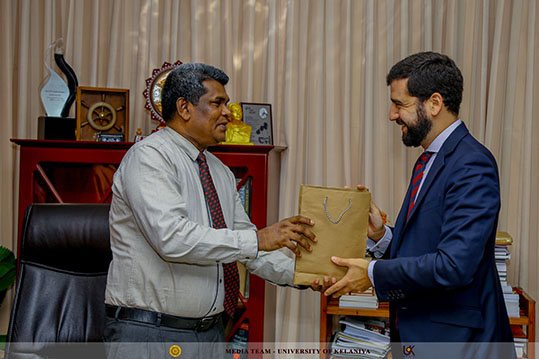 Mr. Ignacio Vitbrica Hamilton, First Secretary for Cultural and Press Affairs of the Embassy of Spain for India and Sri Lanka called upon the Vice Chancellor Prof. D.M. Semasinghe at the Office of the Vice Chancellor on the 24th of January 2019, for a discussion on reviewing the guest lecturer programme of Spanish language. Further discussions were held on scholarships for short term training and the selection of an Intern for teaching of Spanish at the university.
The meeting was held at the Vice Chancellor's Office attended by Prof. Patrick Ratnayake, Dean- Faculty of Humanities, Prof. Neelakshi C. Premawardhena, Director, International Affairs, Senior Lecturer Dr. Dilrukshi Rathnayake, Head- Department of Modern Languages Ms. Sashini Chandraseka, Coordinator for International Cooperation.
The visit was coordinated by the Centre of International Affairs.