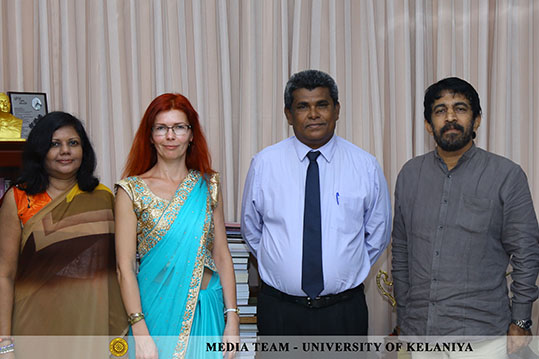 Erasmus Grantee from Tallinn University, Estonia: Prof. Merilyn Meristo from the School of Humanities, Tallinn University, Estonia is on an Erasmus+ academic staff mobility grant from 28th of January to 8th of February 2019.She is attached to the Centre for International Affairs and the Department of Modern Languages during her mobility period.
A meeting with the Vice Chancellor Prof. D. M. Semasinghe was held on the 29th of January 2019 at the Office of the Vice Chancellor.The meeting was attended by Prof. Patrick Ratnayake, Dean- Faculty of Humanities, Prof. Neelakshi C. Premawardhena, Director- International Affairs and Ms. Sashini Chandrasekara, Coordinator- International Cooperation.
Prof. Meristo is a foreign language expert and teacher trainer apart from her area of expertise- French Studies. Her first visit to the University of Kelaniya was in March 2016 on Erasmus Mundus IMPAKT Project staff mobility of one month at the Department of Modern Languages. Since then Prof Meristo has been a regular scholar at the university, taking part in our international conferences, conducting workshops for lecturers in Foreign Language Teaching and involving in joint research projects. Due to her commitment University of Kelaniya could secure a new Erasmus+ partnership approved for 2018/2019 with Tallinn University. Prof. Meristo's visit was coordinated by the Centre for International Affairs.