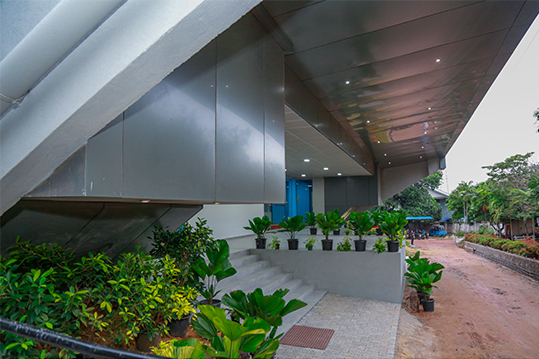 The new indoor stadium of the University of Kelaniya was declared open by the Vice- Chancellor, Prof. D.M. Semasinghe on the 22nd of August 2019.
Present at the occasion were Prof. Sarath Amunugama, former Vice- Chancellor, Senior Prof. Lakshman Senevirathne, Deputy Vice- Chancellor, Prof. Ariyarathna Jayamaha, Dean- Faculty of Graduate Studies, Prof. Bimali Jayawardane, Dean- Faculty of Science, Prof. Patrick Rathnayake, Dean- Faculty of Humanities, Senior Lecturer Dr. P.N.D. Fernando, Dean- Faculty of Commerce and Management Studies, Heads of the Departments, Senior Prof. S.R.D. Kalingamudali, Chairman- Sports Advisory Board, Mr. G.G.U. Saman Kumara, Acting Director- Physical Education, , academic & non- academic staff members and undergraduates.
The indoor stadium provides facilities for all the indoor games including Badminton, Netball, Volleyball & Basketball and it was constructed at a cost of 95 million rupees allocated from the University Fund.  
The opening ceremony was held in relation to the 60th anniversary celebration of the University. A series of exhibition volleyball matches were also held during the ceremony.