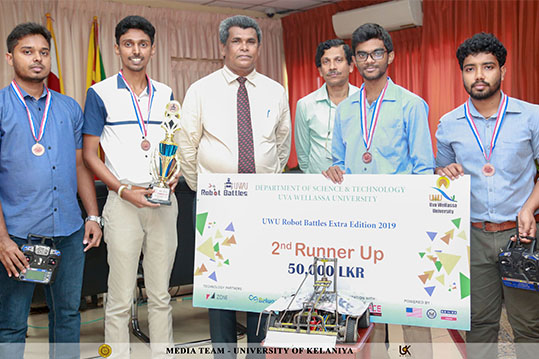 University of Kelaniya won bronze medal at the UWU Robot Battles 2K19, the third consecutive robot battle competition held on 20th of October 2019 at Trace Expert City, Maradana organized by Department of Science and Technology, Uva Wellassa University collaboration with the American Center's Makerspace programme annual engineering exhibition, MakerFair 2019.
The winning teams called upon the Vice- chancellor, Prof. D.M. Semasinghe on the 23rd of October 2019 at the Office of the Vice- Chancellor. Senior Prof. S.R.D. Kalingamudali, Head- Department of Physics and Electronics & the team members graced to this occasion.
In this year the robot battle was named as "UWU Robot Battle 2019 Extra Edition" and Sri Lanka's best undergraduates and technology companies fought with their most impressive battle bots in the arena of "UWU Robot Battle 2019 Extra Edition."
Team "Upasaka 2.0" from the Department of Physics and Electronics, Faculty of Science, University of Kelaniya secured the 2nd Runner Up place among 147 registered participants which represented by 101 Robots. "Upasaka 2.0" Team members are Kasun Piyumal, Geethanjana Wanigasekara, Supun Gunarathne, Ishara Udayantha & Raveen Seneviratne.
This was the largest robot battle competition ever held in Sri Lanka.