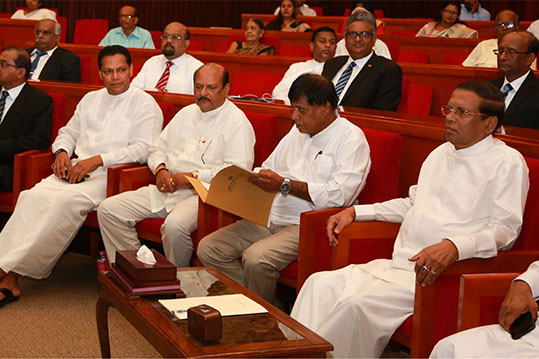 The 50th felicitation ceremony of C.W.W.Kannangara organized by the National E-learning Resource Centre in collaboration with the Presidential Secretariat was held on 16th October 2019 at the BMICH.
The plenary lecture on "The mission and the future challenges of Kannangara" was delivered by the consultant, National E-learning Resource Centre, University of Kelaniya, Prof. Rohana Lakshman Piyadasa. The book "Nidahas Adyapanaye Punrawalokanaya" was launched in commemoration of C.W.W. Kannangara.
The Honorable President his Excellency Maithreepala Sirisena was also present at the ceremony.
Prof. D.M. Semasinghe, Vice-Chancellor, University of Kelaniya, Senior Lecturer Dr. Gamini Wijerathna, Dean, Faculty of Computing Technology, Senior Lecturer Dr. Kaushalya Yatigammana, Director, National E-Learning Resource Centre and the academic and the non-academic staff of the University of Kelaniya participated in this event.
Furthermore, Ministers, Governors, Mr. Udaya R. Senevirathna, Secretary to the president and the government officers joined the event commemorating C.W.W.Kannangara. Mrs. Asitha Balasooriya, members from Kannangara family and the undergraduates took part in this occasion too.