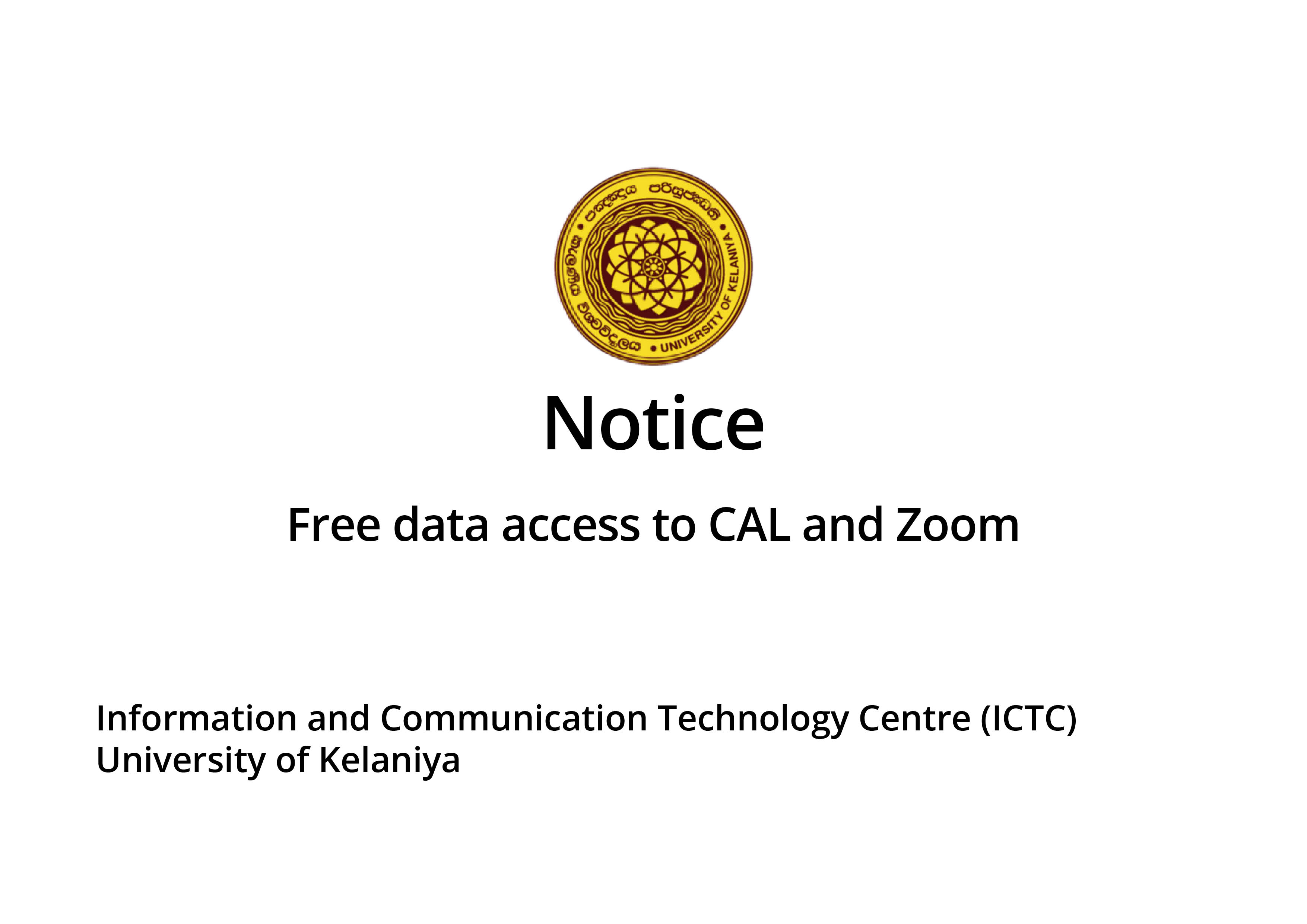 Internet Service Providers (ISPs - SLT, Dialog, Mobitel, LankaBell, Airtel, and Hutch) have enabled free data access to some of the selected systems of universities. Staff and students can access Learning Management Systems of the university including CAL without charged for data.
Also, Zoom servers hosted within LEARN (Lanka Academic and Research Network) can be used to conduct meetings and lectures with no data access charges. For this make sure you sign into Zoom with your SSO option (access Zoom with https://learn.zoom.us) when you are hosting a meeting/lecture. To join a meeting/lecture you don't have to sign into Zoom, and you can click on meeting invitation link or provide meeting ID you receive.
Issues with these services
It appears all ISPs have whitelisted CAL and other LMSs. Therefore, in most cases staff/students could access these systems with no data charges.
In the case of Zoom, LEARN has allocated some of its servers for streaming data of meetings created through learn.zoom.us. As the demand for video conferencing is very high and the streaming servers assigned for your meeting may be assigned from outside of the LEARN network. If this happens, users have to pay for data. Hence, the data charges for Zoom will vary depending on the streaming server. If the demand has exceeded the capacity of servers, staff/students may not be able to join/start an online meeting. Therefore, it is very important that all users to use these services with some control and be considerate of the needs of other uses as well.
It is important to note that Zoom service and access to the service may not be free all the time for all the users. Zoom service is can be used
with no/reduce data changes, only if the streaming occurred through a server on the LEARN network which cannot be guaranteed in advance due to the present demand for a zoom service in the universities.
Complaints about the Data charges
If you have been charged for accessing LMS servers in the university, you could complain to the customer service of your ISPs with details/evidence to request a refund. However, you have to provide the details to justify your complaint. For example, the amount of data consumed, time period, date and URL of LMS servers, machine address of the device. If you fail to solve the issue with your service provider, you could submit the complaint to the Telecommunication Regulation Commission (TRC) with details to justify your refund. Please keep copies of complaints (emails, letters, etc.) you make to either ISPs or TRC.
Also, please note Customer Service of some ISPs may not aware of these services. Therefore, if you want to make a complaint to an ISP, a better approach would be sending an email rather than calling them
If you have a problem with using CAL (or any other LMS) and Zoom, please contact ICT Centre.
Director
ICT Centre