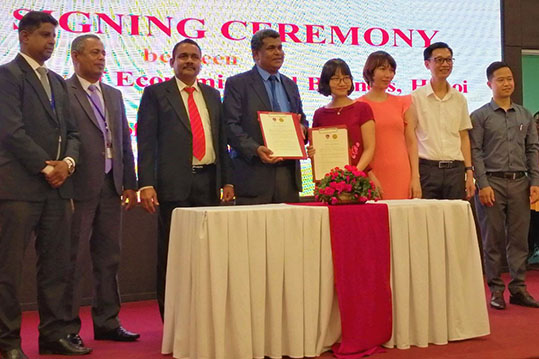 The Master of Business Administration (MBA) program of the University of Kelaniya has organized a foreign study tour to Vietnam from the 10th of June to 16th of June, 2019. As per the invitation extended to University of Kelaniya, an MoU was signed with the Vietnam National University during the study tour.
This MoU includes postgraduate research collaborations, students exchange programs for postgraduate studies, staff development activities and collaborative research projects & conferences.
Present at the occasion were Prof. D.M. Semasinghe, Vice- Chancellor, Senior Lecturer Dr. P.N.D. Fernando, Dean- Faculty of Commerce and Management Studies, Senior Lecturer Dr. D.M.R. Dissanayake, Coordinator-MBA programme and Mr. W.M. Karunarathne, Registrar. Associate Prof. Dr. Nguyen Anh Thu, Vice Rector of the University of Economics and Business of Vietnam National University signed the agreement with Prof. D.M.Semasinghe, Vice Chancellor of the University of Kelaniya with the witnesses followed by official procedures.